THE 24TH JAPANESE SPEECH CONTEST FOR FOREIGN DIPLOMAT 2021
【Date】Wednesday, 3rd November 2021 (Japanese National Holiday: Culture Day)
【Time 】1 : 00 PM ~ 5: 00 PM
【Place】Minato-ku Akasaka Kumin Center Kumin Hall
   4-18-13, Akasaka, Minato-ku Tokyo, 107-0052
【Sponsor】Organizing Committee for Japanese Speech Contest 2021, Foreign Embassies Friendship Association
【Co-sponsor】Kissport Zaidan Aoba Japan International School
【Support】 Ministry of Foreign Affairs, Ministry of Education, NHK, Minato Ward, etc.
▼Please register from here
.
https://www.bbt757.com/svlEnquete/jsp/user/top?id=24JSCENAudience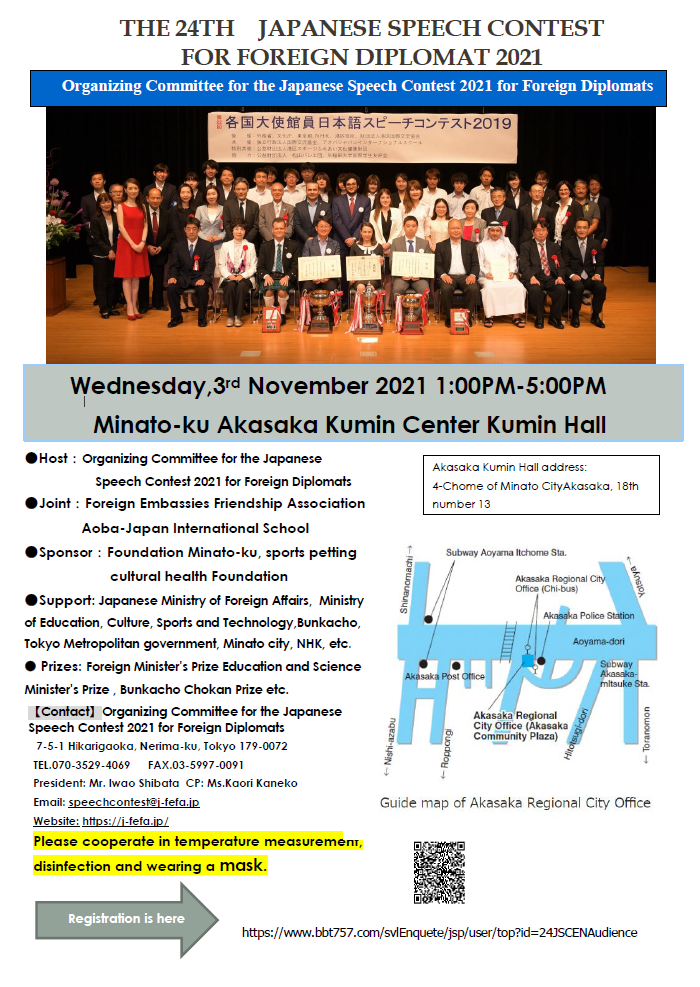 The 24th Japanese Speech Contest 2021 for Foreign Diplomats
The 23rd Japanese Speech Contest for Foreign Diplomats 2020 Online has ended successfully.
We would like to thank everyone involved and for their cooperation.
Here are the winners of this year.
Foreign Minister Award The United States of America Mr. Garvey McIntosh 
Minister of Education, Culture, Sports, Science and Technology Award The Kingdom of the Netherlands Mr. Theo Peters
Agency for Cultural Affairs Commissioner's Award The United States of America Ms. Pamela Pontius
Judge's Special Award The Republic of Singapore Mr. Isaac LEE
Judge's Special Award The Russian Federation Ms. Chizhova Polina
Program of the 23rd Japanese Speech Contest for Foreign Diplomats 2020